About Yatzín
---
Background
---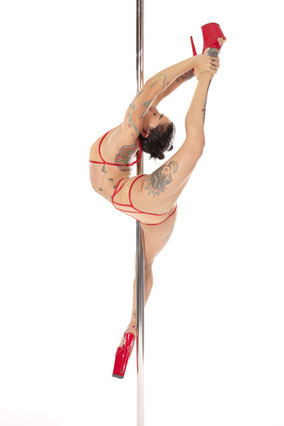 Yatzín began her professional studies in classic and contemporary dance in Mexico 2001. Two years later she began her training in circus arts with internationally renowned teachers from Argentina, China, Cuba, USA, Canada, Basque Country, Russia and Mexico in aerial silks, rope, trapeze, lyra, pole acrobatics and contortion. 
She has over a decade of experience as a performer and has taught acrobatics and contortion all over Mexico as well as in the USA and Europe.
Yatzín has been a performer at the event "Gravity First" in Mexico City - the world's biggest showcase of pole acrobatics - for three consecutive years, sharing the stage with international artists such as Natasha Wang, Alethea Austin, Jamilla Deville, Zoraya Judd, Marlo Fisken, Jennyne Butterfly, Marion Crampe etc.
She took part of the North American Pole Championships 2013, won the bronze medal in the Elite category of the Mexican Pole Championships 2014 and placed 4th in the German Pole Championship Elite category in 2015.
Skills
---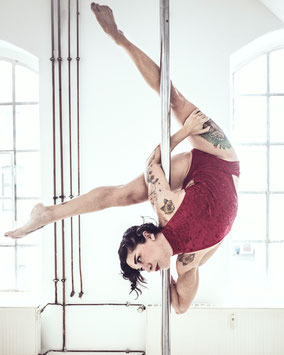 As an artistic performer, Yatzín employs all her circus skills to deliver an entertaining and skillful performance, tailored to the character and audience of the specific event.
As an acrobatics instructor in pole and aerial arts, she is able to draw from her wide experience of different circus arts and techniques. She loves to pass on her knowledge to her students and is able to break down complicated moves into their different components to make students understand the structure behind it.
As a contortion coach, Yatzín employs a specific technique that is tailored towards the needs of an adult body. It combines proven and safe flexibility and contortion techniques from gymnastics and circus with elements from Yoga to help the body relax into the new positions. With a clear guidance and a positive approach even an adult body is still capable of increasing its flexibility, no matter if students are already experienced in contortion or don't have any  prior experience.
Bookings
---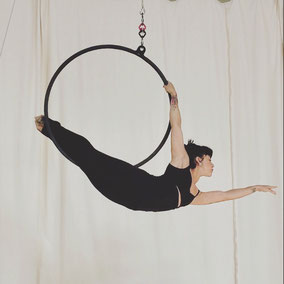 Yatzín lives in Germany since 2014 and currently resides in the City of Cologne in North Rhine Westfalia.
She is available for pole, contortion and aerial acrobatics shows, workshops and individual coaching sessions around the world. Within the area of Cologne, Hürth, Bergisch Gladbach, Bonn, Neuss, Hilden, Dormagen, Düsseldorf, Leverkusen etc., she is also available for regular classes at studios.
Please use the homepage to inform yourself about the different work areas and don't hesitate to use the contact page to inquire about any possible cooperation.