Shows & Events
---
As an experienced show artist, Yatzín employs all her different circus skills to deliver a creative, entertaining and skillful performance, tailored to the character and audience of your specific event.
If you are looking for a specific theme or aerial act for your gala, wedding, company event, trade fair exhibition, vaudeville show etc., please don't hesitate to ask. All shows can be adapted to best suit your needs. 
Pole Acrobatics Show
---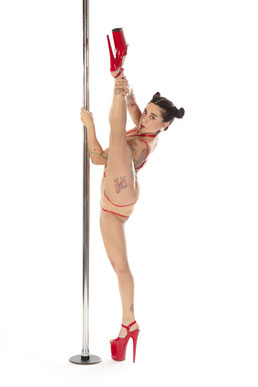 Pole acrobatics uses a vertical metal tube for gravity-defying tricks of amazing strength, grace and balance. This acrobatic use of the pole has its roots in the Chinese circus where it is performed on a rubber coated pole. The metal pole allows for more graceful, flowing movements while maintaining the amazing strength moves of its origins.
Yatzin has been a performer at "Gravity First" - the world's biggest showcase of pole acrobatics - for three consecutive years and participated successfully in high-level competitions, proving her skill as a top-level artist in this discipline. Combined with her circus background, you can be sure to book one of the most qualified show acts in pole acrobatics.
Venue requisites: Yatzín can provide her own pole. Depending on the stage situation, the pole can be fixed between floor and ceiling (without the need to drill any holes) or it can be freestanding on a mobile pole stage.
Aerial Acrobatics Show
---
Tissue / Silks acrobatics or silks acrobatics are performed on two long pieces of fabric that are used to climb, wrap the body in acrobatic poses and perform dramatic drops that stop just before the ground that are sure to make the audience gasp in awe.
Lyra / Aerial hoop acrobatics are performed on a big metal hoop that is hanging form the ceiling on a spinning carabiner. It is used for amazing tricks of flexibility and balance in a mesmerising performance.
Shows on other aerial acrobatics apparatuses such as straps, rope, trapeze etc. are also part of Yatzíns repertoire.
Yatzin trained the different forms of aerial acrobatics with experienced circus artists from all over the world. In combination with her great strength and flexibility, her aerial shows feature a variety of acrobatic skills that will impress and entertain your audience.
Venue requisites: Yatzin can provide her own silks or lyra, but the venue will need to have a sturdy fixing point for a carabiner in the ceiling.
Contortion Show
---
Contortion is the art of twisting the human body into position that seem impossible to acheive. Your audience will not believe the shapes that Yatzín is able to form with her body. 
Venue requisites: None except for an elevated stage that is clearly visible for the audience as the moves take place quite close to the ground.